Sale!
Shimmer Eye Shadow Palette For Green Eyes
From $60
What shades of eye shadow do glimmering, beautiful green eyes require? Well, shimmering tones of plummy, purple harmony, that's what! You already know that our eye shadow case is magnetic and that you can change any shadow in and out of the palette. Our beauty angels used this case to assemble the best mixture of straightforward yet playful shimmery eye shadows to highlight your green eyes perfectly. You'll nail your eye makeup every time.
When you purchase this palette, you'll receive a brand new Z-Palette case, and the 4 eye shadows Iced Mocha, Vamp, Violet Vixen, and Violet Vintage
You'll also receive a handy printed guide featuring two simple and easy looks to help you get the most out of your new palette.
Of course you'll want to expand your palette! We've suggested eyeshadows to add for green eyes below.
Combine These Frequently Bought Products And Save An Additional 5%
This item:
Shimmer Eye Shadow Palette For Green Eyes
Vegan, Cruelty Free, Lead Free
No Hassle 6 Month Returns
100% ALLERGEN FRIENDLY MAKEUP
Because Every Woman Deserves It.
Customer Reviews
Write a Review
Ask a Question
Filter Reviews:
RAL Berrycuda
eyeliner colors
eyeshadow container
RAL Vamp
step by step instructions
plum family
Clean Slate
shimmer eyeshadow palette
colors
look
09/16/2021
Kelly R.

United States
Eye love
I bought 8 different eyeshadows and love them all. The colors are true to how they are pictured. They are a bit dry but apply well with the primer and blend perfectly.
08/16/2021
Anonymous

United States
Z palette eye shadow case
Wasn't quite sure that all 9 eyeshadows would fit in this small case but they did. I do like the fact that they fit in there very nicely and you don't have to worry that they're going get turned over or break. This case fits down nicely in your cosmetic bag or travel bag without taking up a lot of room.
08/12/2021
Anonymous

United States
Iced mocha eyeshadow
Nice very beautiful brown color looks great like it
07/03/2021
Marija P.

United States
The Perfect Eyeshadow Palette!
I have tried eyeshadows in the plum family, but have never been thrilled w/ how they looked until now! The shimmer eyeshadow palette for green eyes is perfect! The colors are absolutely gorgeous! You can do a classic or bold look easily thanks to the RAL step by step instructions that come w/ the palette. The magnetic eyeshadow container is ingenious too; now when you run out of a color you only have to buy one color! For my nighttime look I am wearing the RAL shimmer palette for green eyes, RAL eyeshadow Clean Slate for one of my eyeliner colors (I used RAL Vamp too which comes in the palette), and RAL Berrycuda (which I love too!).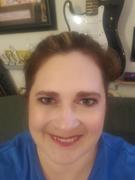 06/28/2021
Donna J.

US
genius
This is my second palette box. I needed more room because I like so many of the matte shadows. I love that you can mix and match and purchase the shadows you want (instead of buying a pre-filled one where you only use a few of the colors).
Description
Why You'll Love This System
2 Easy Looks Right Away!
Who doesn't like easy? The Shimmer Eye Shadow Palette for Green Eyes was created to synergize with your gorgeous greens. Follow the easy instructions below, and in 4 steps, you're out the door.
Printed instruction guide is included with your purchase.
Classic & Timeless
Adventurous & Playful
Expand your shimmer eye shadow palette for green eyes with the right eye shadow shades.
These shades were chosen especially to complement this palette. Easy! Your included Z-Palette can hold up to 9 eyeshadows! Keep adding, and replace only what you've used up!
Complete your look with the essentials.
Start your eye canvas out right with Prime TIme Eye Primer and finish off your eye makeup look with The Lash Project Mascara.
Why These Shades?
These shades blend well together no matter which ones you pair up – creating lots of combos, and no wrong way to wear it. Green eyes love being paired with purple and with a wide range of hues this palette lets your green eyes shine. Add up to 5 more shades (shimmer or matte) that complement green eyes.
Matte Palette
We have an expertly designed matte palette as well. This palette is a perfect complement to the shimmer palette or wonderful all on its own making green eyes look greener.
Additional information
| | |
| --- | --- |
| Eyeshadow Ingredients | Ascorbic Acid, Mica, Titanium Dioxide, Octyldodecyl Stearoyl Stearate, Zinc Oxide, Silica, May contain iron oxides, Ultramarines |
| Eyeshadow Finish | Light Shimmer |
| Allergen Information | Corn Free, Cruelty Free, Dairy Free, Nut Free / Fragrance Free, Petroleum Free, Soy Free |
| Eye Color | Green Eyes |