Rallye Balm + Exfoliate Duo
$28.75
This is a One – Two Power Punch for your lips and your lipstick!
We all hate chapped lips and this combo ends dry lips forever!
Gently exfoliate each day, and Use Rallye Balm to add nourishing Vitamin E back into your lips. You will notice the difference so fast, you will wonder how you ever lived without these two!
As a bonus, with those smooth, hydrated lips, your lipstick will last 5 times longer, guaranteed!
Vegan, Cruelty Free, Lead Free
No Hassle 6 Month Returns
100% ALLERGEN FRIENDLY MAKEUP
Because Every Woman Deserves It.
Customer Reviews
Write a Review
Ask a Question
Filter Reviews:
lips
balm
Rallye Balm
stick
products
mouth
ingredients
gross
lip scrub
skin
04/05/2021
Jamie S.

US
My favorite lip balm
I absolutely love Rallye Balm. It has been my favorite ever since I discovered Red Apple Lipstick years ago after my celiac diagnosis. My daughter loves it too and since we are both gluten free it's important to have something we can trust and that leaves our lips moisturized. Thank you for a great product!
03/18/2021
Rick K.

US
Lip balm
Very smooth on my lips, helped with my dryness and irritation toon. Would definitely buy again!
03/06/2021
Kimberly A. Singer

US
This combo works!
These 2 products really work well for me. I have a sensitivity to lip products with scents so, I was having to use a brand I really didn't like before finding these products. All RAL unscented lip products work really well for me. I also use their eyeshadows and cheek products. I never shop the makeup counters anymore after finding this company, which saves me time and money. Thanks Red Apple Lipsticks!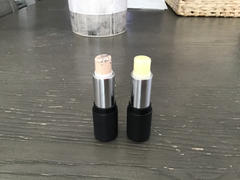 02/05/2021
Katie H.

US
Ultimate Lip Balm
This balm is amazing! A little goes a long way. If anyone has had the corners of their mouth crack, they know how painful and difficult it is to get that area to heal. This stuff quickly managed the job! It gets me through Wisconsin winters!
02/03/2021
Anonymous

US
Very moisturizing!
Very helpful for my dry cracked lips.
Product Description
Application Tips
EXFOLIATE: Nothing could be more simple! The exfoliate stick is rigid, but not harsh or hard. Use it as you would a lipstick and gently "scrub" your lips with it. Rinse your lips with water and pat dry.
HYDRATION: Rallye Balm™ should be your constant friend. Replace all other harmful lip balms with this unique, natural product. Rallye Balm™ is loaded with high quality, gluten free Castor Seed Oil and Vitamin E.
For General Hydration, use Rallye Balm like you would any lip balm.
For a lipstick base, rub it in deep with a finger and blot any excess!
What's Included
(1) Rallye Balm™ Gluten Free Lip Balm + (1) Red Apple Gluten Free Exfoliate Stick
Exfoliate
Exfoliation is the key to flawless lipstick. This handy exfoliation stick is a great, safe, no fuss tool to keeping your lips in tip top condition! No more messy scrubs! This exfoliator is prefectly designed to gently remove any and all "ready to go" skin cells. Use it every day.
Rallye Balm
A clear coat of pure perfection, pucker up to sheer protection! Red Apple Lipstick's gluten free lip balm, Rallye Balm™, is your solution for dry, cracked and peeling lips! Your lips face many harsh elements every day-wind, sun, heat, cold, oils, etc. Exposure like this breaks down the sensitive skin on and around your lips. Due to it's moisturizing properties and clear formula, Rally Balm compliments every Red Apple Lipstick lip product perfectly while keeping your lips healthy, supple and smooth!
Ingredients and Allergen Info
| | |
| --- | --- |
| Allergen Information | Corn Free, Cruelty Free, Dairy Free, Nut Free / Fragrance Free, Petroleum Free, Soy Free |
| Duo Type | Balm & Exfoliate Duo |