The Lash Project – HypoAllergenic & Gluten Free Mascara & Lash Conditioner
$37
The Lash Project Mascara is a HypoAllergenic Mascara & Lash Conditioner in one that is classic and timeless in satin black and gives your lashes a weightless, soft feathery look all while defining and strengthening your lashes. This Gluten-Free and Vegan formula is a bit drier than traditional wet looking mascaras, so it doesn't smudge and clump. Our Hypoallergenic mascara formula also includes ingredients found in the best lash serums & lash conditioners and is designed to help stubby and damaged lashes regain thier original health.
Wiggle the Mascara brush near the base of your lashes for a few seconds, before wiggling it upwards to the end of your lashes. Rotate the brush a quarter turn, then repeat the process.
Vegan, Cruelty Free, Lead Free
No Hassle 6 Month Returns
100% ALLERGEN FRIENDLY MAKEUP
Because Every Woman Deserves It.
Customer Reviews
Write a Review
Ask a Question
Filter Reviews:
mascara
eyes
lashes
Red Apple
company
look
itch
customer service
makeup
lipstick
06/15/2021
Anonymous

US
The best mascara!
Love this mascara! Goes on easily and doesn't irritate my sensitive eyes. Stays on all day but comes off easily when I wash my face before bed.
06/09/2021
Irena V.

US
Great mascara for everyone
Beautiful and healthy lashes to frame every eye :)
06/02/2021
Anonymous

US
Best mascara
Been using this mascara for years !
06/02/2021
Anonymous

US
I won't change again!
I have been using The Lash Project for a long time now. One time, I decided to save a little money and use my former product. Never again! The difference was astounding! I'm a huge fan of this mascara.
05/31/2021
Anonymous

US
Mascara
Awesome. Best mascara I've ever used. I have extremely sensitive eyes and can not wear most mascara's. This one does not bother my eyes. It's also very easy to wash off and does not smudge throughout the day like most mascara. I highly recommend this product❣️ I have finally found a mascara that I can use and trust me I've tried them all.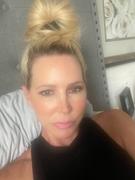 Description
The Lash Project Mascara
The Only Conditioning Mascara That's Gluten Free, Non-Toxic, Soy Free, Vegan & Cruelty Free Conditioning Mascara
PromisesTo:
Stimulating Lash Growth
While Looking Fabulous
Combining the best properties of a mascara with the best properties of a lash conditioner is a WIN-WIN. The Lash Project gives You Healthier & Stronger Lashes with our unique formula powered by circulation increasing Ginko Bilboba, conditioning anti-inflammatory Sweet Flag Root Extract and plant-based peptides that stimulate your keratin production.
2 -In- 1 Mascara and Lash Conditioner
Ingredients
Your Lashes Will Love
– Ginko Biloba Extract – A great "Circulation Enhancer" which helps the collagen in your skin stay full and healthy. It conditions the skin around the root of the eye lash to keep the skin tight. The tightened skin helps your body hold onto that lash, and helps it grow straight.
– Acorus Calamus Root Extract – This anti-inflammatory is a dream – internal inflammation of the skin is reduced, as this extract conditions the hair and skin. An extract from the roots of the "sweet flag" plant, this super ingredient relieves skin irritations.
– Myristoyl Pentapeptide-17 – This little guy is a keratin stimulating mamba-jamba. Keratin is the body's main protein in your hair. The more of Keratin, the stronger, and healthier the hair. This is a naturally occurring amino acid that your body needs in order to grow healthy hair… and your lashes LOVE IT.
– Allantoin – An amazing rejuvenator – it is an anti-irritant that supports cellular function on a micro level, which promotes healing and regulatory function. This extract from the comfrey plant, soothes and protects skin. Your lash follicle will do a happy dance.
Full Ingredient Deck: Water, Acrylate Copolymer, Stearic Acid, Iron Oxides, Carnauba Wax, Glycerin, Synthetic Beeswax, Tromethamine, Polyvinylalcohol, Mica, Silica, Glyceryl Stearate, Cetearyl Alcohol, Myristoyl Pentapeptide-17, Ginkgo Biloba Leaf Extract, Bergamot Leaf Extract, Octapeptide-2, Acorus Calamus Root Extract, Hydroxyethylcellulose, Allantoin, Ethylhexylglycerin, Phenoxyethanol.
IT'S $37
and it's worth every penny.
How Long Will A Tube Last?
With average daily use, one tube normally lasts
60 Days
Your Lashes Are Worth 62 Cents A Day. Your future self says thank you.
*We highly recommend that you never use ANY mascara that's 90 days past the date you opened it.
The Problems Mascaras Cause
Your lash follicles are sensitive. They don't adapt well to harsh chemicals like those found in modern mascaras and the removers to take them off.
Your eye lashes are a hair like any other.
The follicles of your eye lashes are surrounded by glands that produce natural oils to keep your lash in top notch condition.
When the follicle or glands clog, irritation and damage to the lash root starts to occur.
This can happen in many forms. Redness, puffiness, a scratchy sensation, watering eyes, a stye, lashes that fall out, grow stubby or grow in odd directions.
But, damage can be reversed.
The Lash Project by Red Apple Lipstick is a 2-in-1 mascara and lash serum. It has the best properties of a mascara, and the best properties of an eye lash serum. It's designed specifically to look fabulous, clear clogged glands and stimulate lash growth.
6 Month Money Back Guarantee
If you don't agree this is the best Mascara you've ever owned, you can return it for a friendly refund… even up to 6 months from purchase. Return Policy
Additional information
| | |
| --- | --- |
| Allergen Information | Corn Free, Cruelty Free, Dairy Free, Nut Free / Fragrance Free, Petroleum Free, Soy Free |
| Mascara Ingredients | Acorus Calamus Root Extract, Hydroxyethylcellulose,, Allantoin, Ethylhexylglycerin, Phenoxyethanol, Bergamot Leaf Extract, Octapeptide-2,, Glyceryl Stearate, Cetearyl Alcohol,, Iron Oxides, Carnauba Wax, Glycerin,, Myristoyl Pentapeptide-17, Ginkgo Biloba Leaf Extract,, Polyvinylalcohol, Mica, Silica,, Synthetic Beeswax, Tromethamine,, Water, Acrylate Copolymer, Stearic Acid, |