Rallye Balm
$15
Healthy Lip Skin beats chapped lips. This Gluten Free Lip Balm Stops Dry, Cracked Lips fast! It's especially loved by those who suffer chapped lips from auto-immune diseases such as Celiac Disease, Sjogren's and Crohn's.  Rallye Balm is a high quality, 100% gluten free Vitamin E suspended in a special, cold pressed Castor Seed Oil. Vitamin E is an anti-oxidant that zaps the free radicals in your lips causing the problem in the first place. It allows the lips a chance to heal naturally, and once healed, it helps your body maintain the healthy, un-chapped lip skin. It's completely odorless and tasteless, has no toxins, preservatives, waxy coverups, drying or addictive ingredients. Your life will never be the same!
In stock
Vegan, Cruelty Free, Lead Free
No Hassle 6 Month Returns
100% ALLERGEN FRIENDLY MAKEUP
Because Every Woman Deserves It.
Customer Reviews
Write a Review
Ask a Question
Filter Reviews:
lips
lip balm
results
daughter
celiac disease
everything
improvement
skin needs
Finger surgery
care
04/05/2021
Jamie S.

US
My favorite lip balm
I absolutely love Rallye Balm. It has been my favorite ever since I discovered Red Apple Lipstick years ago after my celiac diagnosis. My daughter loves it too and since we are both gluten free it's important to have something we can trust and that leaves our lips moisturized. Thank you for a great product!
03/18/2021
Rick K.

US
Lip balm
Very smooth on my lips, helped with my dryness and irritation toon. Would definitely buy again!
03/06/2021
Kimberly A. Singer

US
This combo works!
These 2 products really work well for me. I have a sensitivity to lip products with scents so, I was having to use a brand I really didn't like before finding these products. All RAL unscented lip products work really well for me. I also use their eyeshadows and cheek products. I never shop the makeup counters anymore after finding this company, which saves me time and money. Thanks Red Apple Lipsticks!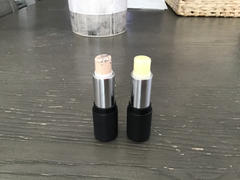 02/05/2021
Katie H.

US
Ultimate Lip Balm
This balm is amazing! A little goes a long way. If anyone has had the corners of their mouth crack, they know how painful and difficult it is to get that area to heal. This stuff quickly managed the job! It gets me through Wisconsin winters!
02/03/2021
Anonymous

US
Very moisturizing!
Very helpful for my dry cracked lips.
Product Description
Simple and nourishing.
Balm without the yucky (gluten, lead, paraben, allergens and soy)!
No tint but great natural sheen.
The best daily lip moisturizer.
It's unique. It's different. It's amazing. It's awesome.
Rallye Balm is designed to specifically combat the dry lip issues shared by most women with Celiac Disease, Gluten Intolerance and Sjogren's syndrome. And if it's tough enough to tackle chronic "Celiac Chap", it's tough enough for any lips!
Rallye Balm ends dry lips. Rallye Balm stops lips from cracking. Rallye Balm protects lips by surrounding them with a moist, protective shell.
Rallye Balm helps protect your lips from the damaging rays of the sun with an SPF level of 8. Rallye Balm makes an excellent base for lipstick and lip glosses, extending it's staying power.
A clear coat of pure perfection, pucker up to sheer protection! Red Apple Lipstick's gluten free lip balm, Rallye Balm, is your solution for dry, cracked and peeling lips! Your lips face many harsh elements every day-wind, sun, heat, cold, oils, etc. Exposure like this breaks down the sensitive skin on and around your lips. Due to it's moisturizing properties and clear formula, Rally Balm compliments every Red Apple Lipstick lip product perfectly while keeping your lips healthy, supple and smooth!
Rallye Balm targets the source of problem, giving your lips the gluten free vitamin E and sun protection they crave most. As with all Red Apple Lipstick products, Rallye Balm is 100% lab tested gluten free, paraben free, lead free and allergen friendly. This vegan formula is completely odorless and perfect for everyone-women, men and children!
Application Tips
Rallye Balm has a multitude of wonderful uses and benefits!
• Lips – Apply just like you would a lipstick. Rub it in deep with your fingers if you plan to put lipstick right over the top, which is a great idea! It makes a wonderful base for lipstick!
• Use Rallye Balm under your eyes to reduce puffy eyes and wrinkles.
• Use Rallye Balm on any dry skin! Elbows, Feet, Dry Patches of Skin, and even sore skin from runny noses.
• Strengthen and Heal nail beds and cuticles by rubbing Rallye Balm in deep.
• Mix Your Own Blush – Dab some Rallye Balm onto the back of your hand, then dab a little of your favorite RAL Lipstick next to or on top of it. Blend the two together with a cosemtic spatula. Dab the mixture lightly on your cheeks and blend to your temple.
• Make Your Own Gel Eye Liner – Swipe some Rallye Balm on the back of your hand. Use your favorite eye liner brush and dip it into any RAL Gluten Free Eye Shadow, and run the loaded brush right over the Rallye Balm on your hand. The apply to the eye. Here's a video provided by a great customer on exactly how to do this.
Ingredients and Allergen Info
| | |
| --- | --- |
| Allergen Information | Paraben Free, Corn Free, Cruelty Free, Dairy Free, Gluten Free, Nut Free / Fragrance Free, Petroleum Free, Soy Free |
| Ingredients | Ricinus Communis (Castor) Seed Oil, Butyrospermum Parkii (Shea Butter), Euphorbia Cerifera (Candelilla) Wax, Vitamin E from a soy free and gluten free source, Aloe Barbadensis |